Sonny Liston
Sonny Liston
Statistics
Real name
Charles L. Liston
Nickname(s)
Sonny
The Big Bear[1]
Rated at
Heavyweight
Height
6 ft ½ in (1.84 m)
Reach
84 in (213 cm)
Nationality
American
Birth date
1931 or 1932 exact date Unknown
Birth place
Sand Slough, Arkansas, U.S.
Death date
December 30, 1970 (aged about 38)
Death place
Las Vegas, Nevada, U.S.
Stance
Orthodox
Boxing record
Total fights
54
Wins
50
Wins by KO
39
Losses
4
Draws
0
No contests
0
Charles L. "Sonny" Liston
(Unknown – December 30, 1970) was a professional
boxer
and ex-convict known for his toughness, punching power and intimidating appearance who became
world heavyweight champion
in 1962 by knocking out
Floyd Patterson
in the first round. Liston bafflingly failed to live up to his fearsome reputation in an unsuccessful defense of the title against
Cassius Clay
, underworld connections and an early death—like his unrecorded date of birth—added to the enigma.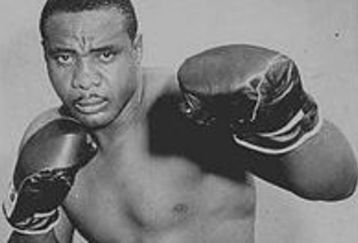 [edit]
Early life
There is no record of Liston's birth, he once gave an age compatible with being born in 1928 but is said to be absent from the
1930 United States Census
. The officially claimed date of birth was May 8, 1932 but Liston's aged appearance added credence to rumors that he was actually several years older.
[2]
[3]
Liston was born the son of a
sharecropper
in Morledge Plantation, Johnson Township,
St. Francis County
,
Arkansas
and is believed to have been the 12th of 13 children born to Tobe Liston and Helen Baskin. He endured frequent beatings - the scars were still visible decades later - and was forced to pull the plow when his father's mule died.
[4]
To escape from his father's brutality, he hitchhiked to
St. Louis
and reunited with his mother and his cousins.
Liston was sentenced to prison as a teenager for taking part in the robbery of a gas station. When he robbed places he always wore the same yellow t-shirt, and became known to the local police force as the "Yellow Shirt Bandit". When he was caught running away from the gas station wearing the same yellow t-shirt, he was sentenced to 8 years in prison. His boxing talent was discovered by a
Roman Catholic
priest, and it was boxing that helped him get out on parole two years later, along with an endorsement from the priest. Liston never complained about prison, saying he was guaranteed 3 meals every day.
[5]
On
Halloween
night in 1952, he was paroled. Much was later made of his being controlled by criminals. However, according to the priest who interested him in boxing, underworld figures became his management simply because they were the only ones willing to put up the necessary money.
[4]
[edit]
Amateur boxing career
After he was released from prison Liston had a brief amateur career that spanned less than a year. He won several amateur tournaments, including the
Golden Gloves
. One of his opponents was Olympic Heavyweight Champion
Ed Sanders
.
[edit]
Professional boxing career
Liston made his professional debut on September 2, 1953, knocking out
Don Smith
in the first round in St. Louis, where he fought his first five bouts. At 6 ft ½ in (1.84 m), Liston had a disproportionately long reach of 84 inches / 210 centimetres (equaled only by some champs who were/are 6 ft 4 in/1.93 m and over) and the largest fists in heavyweight history, 15 in (38 cm), at least until the recent appearance of 7-foot (2.13 m)
Nikolay Valuev
. His noticeably more muscular left arm and crushing left jab lends credence to the widely held belief that he was
left-handed
but utilized an
orthodox stance
. Although he possessed an exceptionally powerful physique some thought Liston relied too much on his ability to take a punch, his footwork and hand speed were also seen as slightly ponderous
[6]
A favorite song was "
Night Train
" which was repeatedly played during long rope jumping sessions. In his 6th bout, in
Detroit
,
Michigan
, Liston faced John Summerlin (19-1-2) on national
television
and won an eight-round decision. He later beat Summerlin in a rematch. The next bout was against
Marty Marshall
a journeyman with an extraordinarily awkward style, in the third round Marshall managed to hit Liston while he was laughing and broke his jaw. A stoic Liston finished the fight but lost the decision, this first loss did however mean that gamblers got better odds betting on him.
In 1955, he won six fights, he won five by
knockouts
, including a rematch with Marshall, whom he knocked out in six rounds, after first getting knocked down himself. A rubber match with Marshall in 1956 saw him the winner by a ten-round decision, but in May of that year he injured a police officer over a parking ticket, accounts of nightsticks breaking over Liston's skull during the arrest later aided perceptions of him as a nightmarish 'monster' who was impervious to punishment. The reality was - as a black detective warned Liston - that such behaviour would get him killed - 'his head stove in', He was
paroled
after serving six months of a nine-month sentence and prohibited from boxing during 1957, the police ordered him out of town. In 1958, he returned to boxing, winning eight fights that year. 1959 was a banner year for Liston, after knocking out Mike DeJohn in six he faced No. 1 challenger
Cleveland Williams
a huge (for the era) fast-handed fighter who was billed as the hardest hitting heavyweight in the world, as well as the expected durability - his nose was broken in round one - and punching power Liston showed boxing skills in nullifying Williams' best work before stopping him in the third of an 'incredible' contest that many thought his most impressive performance, he rounded out the year by stopping
Nino Valdez
, also in three. In 1960, Liston won five more fights, including a rematch with Williams, who lasted only two rounds. He also had knockout wins over
Roy Harris
(one round) and top contender
Zora Folley
(three rounds). Elusive
Eddie Machen
was the only contender who was not knocked out, although Machen lost the 12-round decision overwhelmingly the match showed Liston ineffectively following a fleet footed opponent rather than cutting off the ring on him. Despite his top ranking Liston had a very long wait for the management of world heavyweight champion
Floyd Patterson
to consent to a match.
[edit]
Patterson–Liston
In 1962, Floyd Patterson finally signed to meet Liston for the world title. The fight was scheduled to be held in
New York
, but the New York Boxing Commission denied him a license because of his criminal record. As a result, the fight was moved to
Comiskey Park
,
Chicago, Illinois
. Leading up the fight, Sonny Liston was the major betting line favorite, though
Sports Illustrated
predicted that Patterson would win in 15 rounds.
James J. Braddock
,
Joe Walcott
,
Ezzard Charles
,
Rocky Marciano
and
Ingemar Johansson
picked Patterson to win. The fight also carried a number of social implications. Liston's connections with the mob were well known, and the NAACP was concerned about having to deal with Liston's visibility as world champion and had encouraged Patterson not to fight Liston fearing that a Liston victory would tarnish the civil rights movement.
[7]
Patterson also claimed that
John F. Kennedy
did not want him to fight Liston either.
[8]
In the ring, Liston's size and power proved too much for Patterson's guile and agility and Patterson did not use his speed to his benefit. According to
Sports Illustrated
writer Gilbert Rogin, Patterson didn't punch enough and frequently tried to clinch with Liston. Liston battered Patterson with body shots and then shortened up and connected with two double hooks high on the head. The result at the time was the 3rd fastest knockout in boxing history.
[9]
After the fight questions were raised on whether or not the fight was fixed to set up a more lucrative rematch.
[
10
]
Liston, however, was not a popular champion. After his knockout of Patterson, Liston practiced the speech he was going to give when the crowds greeted him at the airport in his adopted hometown of
Philadelphia
. However Liston was disappointed that on his return there was no one there except for airline workers, a few reporters and photographers and a handful of public relations staff. He left Philadelphia after he won the title in part because he believed he was being harassed by the police. While driving through Fairmount Park which he had to drive to get from the gym to his home he was stopped for "driving too slow" through the park. As a result in 1963 he moved to Denver, where he announced, "I'd rather be a lamppost in Denver than the mayor of Philadelphia."
[11]
Patterson and Liston signed for a rematch, held on the evening of July 22, 1963, in
Las Vegas
,
Nevada
. This fight lasted four seconds longer than their first fight, with Liston once again knocking out Patterson in the first round.
[edit]
Liston–Ali
On the evening of February 25, 1964 in
Miami, Florida
he fought against
Cassius Clay
, whom odds-makers made a distant 7-1 underdog. Liston lost his title when he shockingly quit in his corner before the start of the seventh round, claiming he had hurt his shoulder. Yet in an earlier fight, Liston had a fought a number of rounds with a broken jaw, it should be noted no punches are landed with the jaw bone. On May 25, 1965, Liston encountered Clay again, by then known as
Muhammad Ali
. The bout was originally scheduled for
Boston, Massachusetts
, but Ali, a week before the fight, was hospitalized with a
hernia
. The rescheduled match was held in the city of
Lewiston, Maine
.
Less than two minutes into the fight, while he was pulling away from Liston, Ali hit Liston with a punch which did not seem to have much weight behind it. However, Liston awkwardly went down, first lurching forward to the canvas then sprawling out onto his back, spread-eagled. In the total shambles that followed, referee
Jersey Joe Walcott
never counted over Liston and never made Ali go to a neutral corner, while Ali yelled hysterically at Liston, running around the ring, arms aloft. During this time Liston made an attempt to get back to his feet, before again rolling onto his back. After Liston finally got up, ringside boxing writer
Nat Fleischer
, who had no authority, informed Walcott that Liston had been on the canvas for over 10 seconds (during which time the fight briefly resumed), and that the fight should be over. Walcott then waved the fight off even though he had never counted over Liston and had never made Ali go to a neutral corner, which meant the count in that fight is still at zero by the actual rules of boxing. The photograph of the suspicious knockdown of this fight is one of the most heavily promoted photos in the history of the media, and was even chosen as the cover of the
Sports Illustrated
special issue, "The Century's Greatest Sports Photos". Former champions Jack Dempsey, Joe Louis, and Gene Tunney, as well as Ali opponents George Chuvalo and Floyd Patterson, all stated that they considered the fight a fake. The extent to which Liston's drug and alcohol use may have contributed to his surprisingly poor performances against Clay/Ali is not known; it was apparent Liston was out of condition for both fights.
[12]
[edit]
Subsequent fights
After the second loss to Ali, Liston took a year off from boxing, returning in 1966 and 1967, winning four consecutive bouts in
Sweden
, co-promoted by former
World Heavyweight Champion
Ingemar Johansson
. These knockout victories included one over Amos Johnson, who had recently defeated
Britain
's
Henry Cooper
. In 1968, he won seven fights, all by knockout, including one in
Mexico
. America's first look at Liston since the Ali rematch was in a nationally broadcast match with No. 5 ranked Henry Clark who he stopped in seven rounds. A 10-round decision over
Billy Joiner
in St. Louis continued the run of victories and Liston at 38 years old (but having the appearance of a man of 50
[3]
) seemed on the verge of making a comeback to the big time, he talked of a fight with
Joe Frazier
, claiming "it'd be like shooting fish in a barrel". But, in December, Liston was knocked out in the ninth round by
Leotis Martin
after dominating the majority of the fight, (Martin's career ended after the fight because of a detached retina). Liston won his final fight against
Chuck Wepner
in June 1970. The referee stopped the bout in the 10th, with Wepner needing 57 stitches and having suffered a broken cheekbone and nose.
Liston was negotiating to fight
George Chuvalo
in
Pittsburgh
, when he was found dead by his wife in their
Las Vegas
home on January 5, 1971.
[13]
She entered the premises and smelled a foul odor emanating from the main bedroom. She entered and saw Sonny slumped up against the bed, with a broken foot bench on the floor. The day of his death on his death certificate is December 30, 1970. Police estimated it by judging the number of milk bottles and newspapers at the front door.
[14]
Following an investigation, Las Vegas police concluded that there were no signs of foul play. The cause of Liston's death remains a mystery. The police declared it a
heroin
overdose. An autopsy revealed traces of morphine and codeine of a type produced by the breakdown of heroin in the body. His body was so decomposed that tests were inconclusive and officially, he died of lung congestion and heart failure.
[15]
Some, however, believe that the police investigation was a coverup, and the cause of Liston's death remains unresolved.
[3]
Liston supposedly had a phobia regarding needles. After winning the title, Liston at first refused to go on an exhibition tour of
Europe
when he was told he would have to get shots before he could travel overseas. Liston's wife also reported that her husband would refuse basic medical care for common colds because of his dislike of needles. This, coupled with the fact that Liston was never known to be a substance abuser (besides heavy drinking), prompted rumors that he could have been murdered by some of his
underworld
contacts. Sonny's wife had a very vivid dream the night of December 28, in which Sonny was in a shower shouting "Help me Geraldine, Help Me Geraldine".
[16]
Additionally, authorities could not locate any other drug paraphernalia that Liston presumably would have needed to inject the fatal dose, such as a spoon to cook the heroin or an appendage to wrap around his arm. This only added to the mystery surrounding his death. A friend of Liston's told
"Unsolved Mysteries"
that Liston had been in a car accident a few weeks prior to his death. Liston was hospitalized with minor injuries, and received intravenous medicine. This is believed to be the source of the puncture wound that authorities found upon discovering Liston's body.
Liston is interred in Paradise Memorial Gardens in
Las Vegas, Nevada
. His headstone bears the simple epitaph
"A Man."
===================================================
The Liston Chronicles, Part 2: Setting Sonny
By Springs Toledo

"Though the fury's hot and hard
I still see that cold graveyard
There's a solitary stone that's got your name on."

~Elvis Costello, "Complicated Shadows"


"LISTON" was spelled out on the back of the heavyweight champion's robe as he walked into the weigh-in before his second title defense. Behind the lettering was the image of a sun. A setting sun.

Sonny Liston had every reason to be confident on the night of February 25, 1964. He was an eight-to-one favorite to defeat Cassius Clay. "The loud mouth from Louisville," declared the New York Times, "is likely to have a lot of vainglorious boasts jammed down his throat by a ham-like fist." That was an echo of the opinion of nearly everyone paying attention. Even the Nation of Islam was reluctant to get too involved on behalf of their recent convert. Elijah Muhammad himself believed that it was "impossible" for Clay to beat Liston. Malcolm X did not, and offered religious-based counsel to the jittery challenger, and then defied Elijah Muhammad by attending the fight in Miami.



He didn't know it yet, but Liston had already made the mistake common to legions of history's strong men. The mistake was hubris. His contempt for the skills of Cassius Clay was as pronounced as his training was casual. He drank wine and snacked on potato chips. Liston was prepared only to go the two or three rounds he figured it would take to cash in on Cassius –no more, no less.

The Liston training camp revolved around the whims and moods of Liston. Everyone, including his trainer Willie Reddish, was told what to do and when to do it. Liston listened to no one except James Brown singing "Night Train". The only exceptions were a Roman Catholic priest who befriended him in prison and the only hero he ever acknowledged –Joe Louis. Apparently, Louis never told Liston the story of his own lackadaisical training that brought about his first loss against Max Schmeling. Nor did the priest open the book of Samuel in Sonny's presence. Had he done so, the champion may have remembered that it was a mere stone in the sling of a youth that felled Goliath.

No less was the speed of an arrow in the bow of a youth that slew Richard the Lionheart.

Liston looked at Clay and saw a mere stone in his shoe, expecting to parry his arrows as if they were shot by Cupid.

And so it went that a twenty-two year old upstart fought like a mighty archer on wheels; And Liston's clay feet followed wearily as the rounds sailed past the third. The new old king learned the hard way that hubris blinds a man more than the astringent his corner may or may not have put on his gloves before the fourth round. Liston refused to come out for the seventh round. That was that. Cassius Clay became the new champion, shocking the world and bouncing all over the ring proclaiming exactly that –as Liston sagged on his stool.

Barbarossa, one of history's great warriors, drowned under the weight of his armor in a shallow river. Liston's fall was just as anticlimactic. It was downright meek.

Disrobed of his invincibility, he went to St. Francis Hospital for X-rays on his left shoulder. Later a team of doctors confirmed that he had in fact suffered an injury that would be "sufficient to incapacitate him and prevent him from defending himself". Liston's corner claimed that the injury occurred during training and that they had to cease sparring earlier than planned. When asked why they didn't postpone the fight, the answer was "we thought we could get away with it."

A forgotten nugget of information is that the rematch was originally set for November 16, 1964 at Boston Garden. Sonny trained harder than he had since his peak in 1959 on the grounds of what is now the White Cliffs Country Club in Plymouth, MA –whipping himself into search-and-destroy shape at 208 lbs. Reporters swarmed and Liston's mood swung between sullen and surly, even worse than usual. Ten sparring partners became casualties and some ended up in the hospital. Liston didn't even have "Night Train" playing because the beat was too slow for a new pace of training. He was hell-bent on redemption. "When I catch him," Liston promised, "you'll know I'm bitter."

It wasn't all "meanness" with Sonny. He was known to be gentle with children and impulsively generous with the down-and-out. At times, he seemed to yearn for the peace his life and his choices never allowed. One evening at White Cliffs, Sonny noticed a beautiful scarlet sunset over Cape Cod Bay. "Look at there," he said to a reporter for Sports Illustrated, extending his giant hand and pointing to the horizon, "Isn't that the most beautifulest sight you've ever seen?"

He didn't know it yet, but the setting sun's appearance was inauspicious.

Friday the 13th was just a few days later and Ali was rushed by ambulance to Boston City Hospital for an emergency hernia operation. The fight was called off. Liston growled: "If he didn't carry on in the street the way he did he wouldn't have hurt himself." Ali was no less disappointed. "I was really in the best shape of my life as was Sonny. Now all that hard work has gone down the drain," he said. "Everything was set up. Now I have to sit back for another six months. It was such a letdown for me and for Sonny. All that work for a man his age."

A man his age. Liston dissipated. He was picked up for drunk driving in December and got into it with ten policemen who had to wrestle him into a cell. Reporters noticed that he was looking "heavier and haggard".

He spent Christmas in jail.

The infamous rematch ended up in a high school hockey arena in Lewiston, Maine. Ali came in four pounds less but was noticeably bigger than the previous year with inches added to his thighs, biceps, and forearms. Liston was simply older. Whatever fire he had captured at White Cliffs was gone.

Suspiciously, Liston was installed as a nine-to-five favorite.

Ali began round one bouncing and shifting and flicking shots. He landed one hard right hand and Sonny reacted as if it were a caress. Liston was moving in when Ali's back was near the ropes, he threw a left jab and Ali came over with a right hand that was far more innocent than the previous one… and Liston went down. The fiasco that followed is incidental. Liston's performance was anything but.

There are those who believe that Liston's first round knockout was on the level. Others meet it halfway and consider the knockdown legitimate but assert that his refusal to get up suggested something else. Sonny himself spoke of it before the California Boxing Commission and stated that the knockdown was indeed real but that he refused to get up because Ali was standing over him. This doesn't fit the film. Sonny was too busy trying vainly to make it look like he was hurt. He wasn't even looking at the big butterfly fluttering about.

The fact is Liston had an exceptional chin. Mike DeJohn proved it. Cleveland Williams proved it. Cops did too –with hickory nightsticks. After Marty Marshall landed the right that broke his jaw, he said, "I never knew he was hurt. You hit him with your Sunday punch but he don't grunt, groan, flinch or blink. He don't do nothing; he just keeps coming on. He's discouraging that way."

Ali landed a flicking punch thrown with his legs out of position and no leverage. His first response to Liston's going down was outrage and it is memorialized in perhaps the most famous boxing photograph ever snapped. "Get up you yellow dog!" –Ali's shout at the horizontal Liston is frozen in time. It was only later that Ali and company came up with his "anchor punch" spin for posterity's sake. It's understandable. Dives taint both fighters, but a first round KO of the impossibly strong Sonny Liston after previously stopping him is a fitting aftershock for the world.

For all Floyd Patterson knew, everything was on the level. He went to Liston's dressing room after the bout. Liston sat there alone, staring at something far off with that permanent scowl that wasn't a scowl. Floyd said, "I know how you feel. I've been experienced this myself." Sonny didn't acknowledge him. Finally, Floyd went to walk out and Sonny ran up, put a hand on Floyd's shoulder and said "thanks".

Liston became a persona non grata after the fiasco. He fought on against mostly nondescript opposition in Sweden and then returned to fight a 6'4 truck driver named Bill McMurray. By this point it is not unlikely that Liston was forty years old, although he still had the strength of ten men. With Ali stripped of his title and out of the picture, Sonny was fixing his sites on Joe Frazier by 1968. Emboldened with a fourth round KO of McMurray, a new trainer in Dick Sadler (who would also train George Foreman) and Sammy Davis Jr.'s interest in his career, Liston was feeling upbeat. "I'll beat [Frazier]," he declared. "I won't have to chase him. It'll be like shooting fish in a barrel."

Henry Clark was ranked ninth by Ring Magazine when Liston faced him four months after McMurray. Liston won every round behind a jab and became the first man to stop him. Amos Lincoln was his eleventh straight KO since the Ali rematch, and Lincoln ended up draped over the ropes for three minutes while his handlers tried to revive him.

The old ex-champion was coming on, straight for Frazier, and the boxing world was buzzing. It couldn't last if the word on the street was accurate though, and the word was that Liston was boozing it up regularly and addicted to heroin. It couldn't last because Liston was Liston. Leotis Martin put an end to Liston's redemption delusions and brought the sheep in with a right hand, followed by a left hook and another right. Liston fell hard and didn't move. There wasn't much doubt that this was his only legitimate knockout loss.

Liston's last bout was held in Jersey City in June 1970 against Chuck Wepner. A strangely silent guest appeared at the back of the armory where the fight was held: it was Muhammad Ali. Ali remained confused and fascinated by his predecessor for many years after their bouts and admitted that Liston scared him. He once went so far as to privately claim that "Liston was the Devil." Either way, Liston was applauded as he entered the ring against the 6'5, 228 lb challenger.

It was a brutal fight; and Liston wins those.

Wepner, stopped after nine rounds, was in shock for three days after the bout with a broken nose, a broken left cheekbone, and seventy-two stitches to close his face. Sonny had hopes that this, his 50th victory, would qualify him for a bout against Jerry Quarry. It was not to be.

The Grim Reaper showed up instead, tapping him on one of those massive shoulders. Sonny Liston died alone, probably on December 29, 1970, and apparently from a drug overdose. No one really knows. Black daisies sprang up in the bedroom where his body lay for days before anyone found him.

It was a brutal life; and no one wins those.